/
Trick the kids into eating healthy Halloween treats with these tips
We wrote a Halloween blog post 5 Ghoulishly Nutritious Sporty Halloween Snacks some time ago and we thought we would add some extra ideas from across the net for spookily good Halloween snacks. Use the ideas to trick the kids into eating healthy treats this Halloween.
Clementine Pumpkins
Our traditional favourite. The pumpkins are made out of clementines and celery. Peel the clementine but leave it in its original shape. Then take a piece of celery into small pieces to make the steam of the pumpkin. Clementine's are a source of fibre, calcium and vitamin C.
Apple Monster
The Apple Monster is a great all round healthy treat for the family.
Spooky Spider Snack
A quick treat with simply a plumb, dark grapes and edible eyes.
Olive Snake
A great one for the kids.
Banana Ghost
A scary banana to have everyone eating their fruits. Simply needs bananas and Cheerios.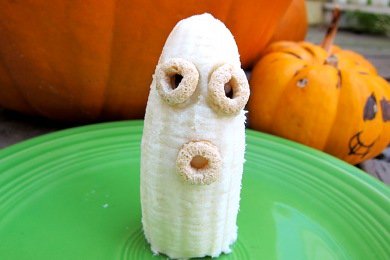 Halloween is a holiday celebrated on the night of October 31. Halloween's origins date back to the ancient Celtic festival of Samhain which comes from the Old Irish for "summer's end" (pronounced sow-in).
Enjoy a healthy Halloween.